I recently paid a visit to my beloved dress, eager to see it on and try to find a veil that would help to make me look and feel more bridal. I knew I wanted to wear a veil, but nothing had captured my heart so far. Everything I looked at seemed... OK, and everything that I had tried on while dress shopping had seemed... OK. Nothing special, really. But, I knew a veil was in my future, so the hunt began.
Well, the term "hunt" may be a bit of an overstatement. I think I tried on all of two veils during my dress shopping. After slipping into the dress, most of the consultants in the store temporarily disappeared, leaving us to navigate the hangers of veils before us. We started with one with a satin edge that had received some positive reactions while dress shopping. Think along these lines: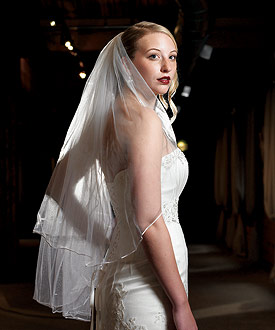 I think it was on my head for about 12 seconds before my mom and I had nixed it. It didn't match the classy, glamorous look of the dress. So my mom grabbed one with some nice, subtle beading... and it just happened to be a beast of a cathedral. It had some crystal work scattered throughout the length of the veil, in addition to some light beading sprinkled along the border, like this:
It was very similar to when I tried on THE dress. No words really spoken at first, and then a snowballing of comments like "Oh, I like it a lot more than I expected." and "I never would have picked this myself, but it really works." After playing with the placement on my head and the way the veil rested on my shoulders, it pretty much became clear: I would, indeed, be sporting a cathedral veil on my wedding day. The length, although it didn't trip my trigger during my initial search, actually complements the dress amazingly. It draws the eye down, elongating the dress and the pleats and all the other yummy goodness. The beading is just enough bling to sparkle up my classically simple dress, but it's not so dramatic that I'll be competing with my veil for everyone's attention. I opted out of a blusher because I about passed out whenever the consultant put one on... I don't like having an errant hair in my face, let alone an entire layer of fabric! Nope, no blusher for me, sorry Annie Banks.
I still didn't get that "OMG I'm a bride" moment, but I'm blaming that on the fact that my dress needs some alterations, due to my pre-pubescent body shape. I'm keeping my fingers crossed that once I get MY dress to fit MY body and wear MY veil, it will all hit me like a ton of bricks.
A quick Google search confirmed that I made the right choice with the length; I was happy to find some pictures of Fanal brides with cathedral-length veils!
(Even the people at La Sposa think cathedral is the way to go!)
So, once again, my expectations proved to be wrong. I guess it's only fitting that I picked a veil I never wanted to go with a dress I never wanted!
How did your final veil selection match up to your original choices?