I may,
occasionally
, enter a discussion about a wedding planning detail with a clear vision in my head. And I may,
occasionally
, pledge my undying allegiance to that clear vision, poo-pooing any other option in favor of my own pre-conceived decision. And this fun little system of mine
may have bitten me in the butt once before
. You'd think I would have learned my lesson after getting taken to bridal gown school, but no. Instead,when brainstorming wedding flowers, I did the exact same thing. I became 100% obsessed with one line of thought and judo-chopped every other idea out of my head. I may have been a bit off-base in my pre-dress shopping dress decisions, but
obviously
that couldn't happen again with my pre-flower shopping flower decisions. Duh.
Before speaking to a single florist, I had about 95% of the details all hammered out. The main flower would be hydrangea, with touches of roses here and there, just to mix it up. I wanted the bridesmaids to have very small, tightly-constructed bouquets comprised entirely of green hydrangea, and I wanted to have a bridal bouquet that was formed with white hydrangea instead of green and I wanted one that was a bit bigger, a bit fuller, and had some roses mixed in. The guys wouldn't be in boutonnieres, but they would be donning pocket squares instead. The centerpieces would be a blend of high and low, made of mostly hydrangea, to give the reception room some visual interest. Need some pictures to get the idea?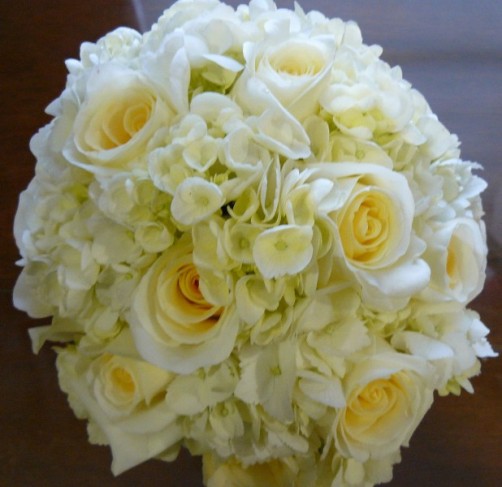 Even though I had a clear vision overall, I had one decision that I was utterly positive about. Even though purple is in our color palette - no purple flowers. I thought it would be stupid to have purple flowers held against a purple BM dress, I don't like the purple flowers that immediately come to mind for me, and I wanted the colors to pop, so purple was out.
Image via Wedding Flowers (for the photo without the big, angry X that was added by moi)
Like I said before... there's no way I could be wrong about my dress and wrong about my flowers. No way, whatsoever.
What was your floral vision before picking a florist? Any flowers that were definitely not going to be included?