After realizing we weren't 100% on the same page with our honeymoon ideas, we took a step back from the decision. We both kind of ruminated on what we wanted out of this vacation, and then tried to meet halfway. We agreed we wanted a warm beach locale, we wanted to have the freedom to leave our hotel/resort and explore a bit, we wanted some good eatin', and we wanted something that was relaxing, flexible, and low-key. We didn't want to be go-go-going all day long, but at the same time, we wanted a place that would offer us some opportunities to be active if we wanted to, whether that be watersports, sight-seeing, or shopping.
We honed our search to the southern part of the Atlantic Coast, honing in on Hilton Head, Charleston, and Savannah as real contenders. Nothing was officially decided until Mr. Snow Cone's cousin, who had recently moved to Charleston, suggested that we look into a resort called
Wild Dunes
.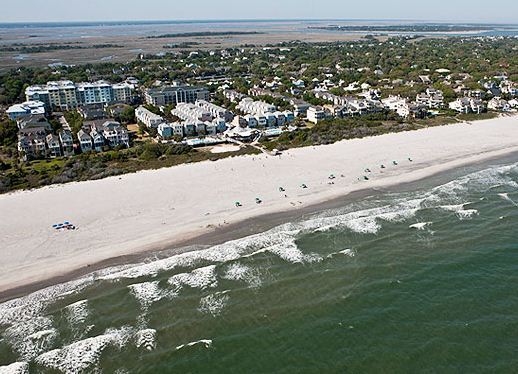 It's an island resort located in Isle of Palms, South Carolina, about a 30-minute drive from downtown Charleston. Its huge property includes a bunch of different accommodation options - a standard (but luxurious) hotel, condos, beach houses, and villas. They have a spa and a whole slew of water activities like kayaking, fishing, and sunset cruises. We were pretty smitten with this place immediately, so we took the plunge and booked ourselves a honeymoon! We reserved an ocean-front villa that looks like the perfect combination of cozy and spacious for the two of us. I am kind of in love with the idea of waking up to my new husband and hearing the Atlantic Ocean just a few yards away (*swoon*).
In the process of booking, we found out a few things that served as icing on the honeymoon budget cake. First of all, the travel industry switches to their fall season the week after our wedding, meaning rates are lowered by a considerable amount per night. Additionally, we were able to save 10% off the nightly rate by tacking on a prepaid meal at one of the resort's restaurants. Finally, our beloved Southwest Airlines started flying to Charleston just recently, plus my parents generously gave us ticket vouchers from Southwest points.


We get to laze about on the beach all day, drive into Charleston for some of their supposedly amazing food, and then rinse and repeat the whole thing all over again the next day!
We overcame our financial hurdles, reached a compromise, picked a destination we love, and put a big, fat, major check on our to-do list, all of which feels pretty nice.
Where are you going on your honeymoon? Any restaurant recommendations for Charleston?