After a few days of post-wedding recovery in Pittsburgh, Mr. Snow Cone and I hopped on a plane to head down to Charleston, South Carolina, for our much-awaited honeymoon. When deciding on a destination, we decided we wanted good food, good weather, and a schedule that allowed for a decent amount of flexibility and control on our part. Suffice it to say, Charleston nailed all three of those top priorities (minus one relatively sizable exception...).
We got off the plane at Charleston's quaint airport, which was a bit cozier than most airports I've encountered in my various travels. Fortunately, the cozy airport size translated to short lines
everywhere
, which meant we had rental car keys and luggage in our possession very shortly after landing. An easy 20-minute drive from the airport placed us right in downtown Charleston! Right away, we could tell Charleston was a special city. For most places in the United States, the term "downtown" conjures up images such as this: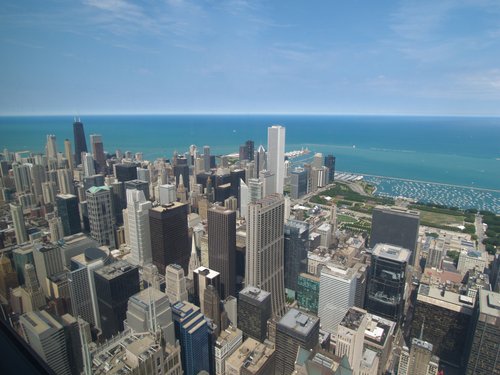 ... which is not quite the same as downtown Charleston.
Everything in Charleston looked a little bit brighter, a little bit smaller, and a little bit warmer than most other "downtown" areas, which immediately set Mr. Snow Cone and myself at ease. Driving through the city was a breeze, and we easily made our way to our hotel for the evening -
The Planter's Inn
. Right away, we were greeted by helpful staff who welcomed us by name, congratulated us on our recent wedding, and assured us that they would take care of all of our needs while staying in their hotel. We pretty much nodded our heads in agreement and prepared to be pampered. Not a bad way to start the honeymoon, eh?
We dropped off our luggage and decided to grab a bite to eat while waiting for our room to become ready. It was at this point that we made our first, and probably biggest, mistake of the honeymoon. In Charleston, there's no such thing as grabbing a bite to eat. Everything is so mind-blowingly delicious that you grab
dozens
of bites, feeling happy but stuffed after each and every meal. The first stop on our gluttony getaway? Charleston's famous
Hyman's Seafood
. We'd received multiple recommendations to stop by Hyman's, so we didn't hesitate to pop in for lunch when we discovered it was about 30 yards from our hotel. We opted to do a 5 seafood platter combo, which looked a little something like this:
The menu billed the 7 seafood platter as enough to feed two people, so we thought that by going with 5 seafoods, we'd have a nice, light lunch. Wrong. We gorged ourselves on crab cake, crab dip, hush puppies, fried oysters, shrimp and grits, swordfish, and amberjack. Mr. Snow Cone and I were pretty much stuffed to the gills (haha, get it?) and we still had a hearty amount of food left on our plates. Despite our less-than-perfect showing, the food was glorious. I kid you not when I say that thinking about the fried oysters and hush puppies automatically gets my salivary glands going. It was such a nice, casual, and delicious way to kick of what would ultimately prove to be a superb honeymoon.
Have you ever had any surprising or exciting first impressions at a vacation destination? Any vacation food memories that makes your tummy go pitter-patter with savory nostalgia?